Fall 2023 CSA Pickup Guide
Please note the following deliveries will be rescheduled due to the holidays:
Thanksgiving, Thursday, Nov. 23rd:
All PA Thursday sites will be rescheduled for Monday, November 20th.
All DC, MD, and VA Thursday sites will be rescheduled for Tuesday, Nov. 21st.
Saturday, Nov. 25th:
All Saturday delivery sites will be rescheduled for Wednesday, November 22nd.
picking up your CSA share
1. Arrive at your CSA pickup site on the day of your delivery.
Pickup window details can be found in your welcome email and on the website.
Remember that site hosts are volunteers, so please arrive before the pickup window closes.
If you are running late, contact your host directly. Site hosts are permitted to donate, keep, or compost any shares that are left unclaimed.
 2. Check-off your name on the sign-in sheet.
A sign-in sheet will be delivered with the CSA shares each week. This sheet will have your name and the share(s) that have been delivered for you.
Place a checkmark next to your name so that the site host knows you have picked-up your share(s).
Do NOT take any shares that are not listed next to your name.
If the sign-in sheet is incorrect, call 717-656-3533 x2 or email customer service at csa@lancasterfarmfresh.com
3. Locate your item(s)
Not sure what you're looking for? All boxes and items are labeled for convenience.
Some shares come with specific labeling so make sure you are taking the correct one.
Special note about fruit shares – fruit shares come with instructions each week. These instructions are often attached to the fruit share boxes or are located inside the boxes. Please read these carefully and only take the amount listed on the instructions. See FAQ's below for more details about fruit shares.
There are multiple types of shares being delivered including one-time only CSA store items, special shares for organizations, etc., so please read labels carefully!
4. Unpack your shares and break down your box(es)
You can take home your shares as they are delivered or load your items into reusable bags.
If you leave your box, it is your responsibility to break it down prior to leaving.
Boxes left at your CSA site will be returned to the co-op for reuse.
Please double-check that you are leaving the site neat and tidy for your site host and other CSA members.
Who do I contact if I have any questions?
CSA Members:
Site-Specific Instructions, Policies, or Issues: please contact your site host directly. Your site host's contact information can be found in your welcome email.
General Inquiries: please email customer service at csa@lancasterfarmfresh.com. To help us expedite your email more quickly, please remember to include:

Your full name – first and last
The full name and email of the person on the CSA account
The name of your pickup location, if applicable.
The type of share(s) you currently have, if any.
Please describe your issue with as much detail as possible.
Site Hosts:
Unite for HER Members:
How will I know what will be in my CSA box?
The CSA team will send an e-newsletter each week, approximately 2-3 days prior to your pickup day, with the "predicted" contents of your CSA box. We also send a reminder email the morning of your pickup which includes the contents of what was packed in your box.
Why do the "predicted" contents sometimes differ from the actual contents received?
Because farming is unpredictable.
We want to guarantee that the predicted contents lists in our newsletters are 100% accurate (we really do!), but…farming can be unpredictable. Sometimes harvests don't go as planned, so the contents of your boxes may be slightly different than what was predicted.
What should you do? Roll with it, and let your inner chef shine!
What is a swap box?
As a special perk for CSA members – and as inventory allows – we ship a small box called a "swap box" with a variety of produce to each site. If your share happens to contain something that you don't care for and would like to "swap it out," please place it in the Swap Box and pick something else that is roughly the same size.
The swap box will be clearly labeled. Do NOT open other boxes onsite to swap out items.
Please note that swap boxes are not guaranteed. While we will do our best to continue shipping swap boxes each week, inventory may limit availability.
What if I'm running late to pick-up my share?
Each CSA site host has the ability to set their own policies regarding late pickups. Please review your pickup details for further information or contact your site host directly.
What if I am going on vacation?
If you're planning to go away, you have a few options:
Donate – or even sell! – your share to a friend or relative.
Check with the other members at your site to see if they are interested or know someone who would like it.
Contact your site host. Many site hosts work with community food banks and will donate it for you!
Still stuck? Contact Lancaster Farm Fresh CSA 2 weeks in advance and we can place your delivery on hold for you.

Please also let us know if you would like to receive a replacement share when you return. The replacement share will be marked as a "special order" and labeled with your name.
 What if someone else is picking up my box?
No need to contact us. Please provide all pickup instructions to your CSA guest. Some site hosts also ask to be notified if someone else is picking up for you so please double-check with your site host by contacting them directly.
What if my share is missing?
Please do not take any shares that aren't listed next to your name. Also, please do not take a differently sized share than what is listed for you. For example, if a medium share is listed, and there are no more medium shares available, do NOT take a small or large share as those belong to other members. This creates a "trickle-down" effect for the whole site, resulting in several members not receiving their correct shares.
Double-check the sign-in sheet to ensure your name and the correct item(s) are listed.

If your share is not at the pickup site or is not listed on the sign-in sheet, please contact Lancaster Farm Fresh Co-op at csa@lancasterfarmfresh.com.
How do I pick-up my replacement share or CSA store item?
 Replacement shares and CSA store orders will be delivered to your regular CSA pickup site – same day, time, and location.
These orders will be labeled with your name, so please double-check you are taking only what is marked for you.
CSA store items have varying delivery schedules. Please be sure to check your order confirmation email for when to expect your delivery. A reminder email will also be sent the week before delivery.
How do fruit shares work?
You must be signed-up for a fruit share to receive fruit.
Sometimes fruit will be included in the vegetable shares. In this instance, the fruit will be packed inside the vegetable boxes and listed on the predicted contents for the vegetable share members.
Fruit shares do NOT come individually boxed so please do not take a whole box of fruit.
Fruit shares come with printed instructions specifying the quantity to take for each fruit item. These instructions are often taped to one side of each fruit box and inside each box. Please read these instructions carefully and take only the quantity listed. For example, if the fruit share for the week includes apples and pears, there will be one or more boxes with apples, and one or more boxes with pears. The number of boxes is dependent on the number of members receiving fruit shares. Each apple box will include instructions with the number of apples to take and each pear box will include the number of pears to take. If the instructions for the apples say "4 apples" then only take 4 total apples, NOT 4 apples from each box.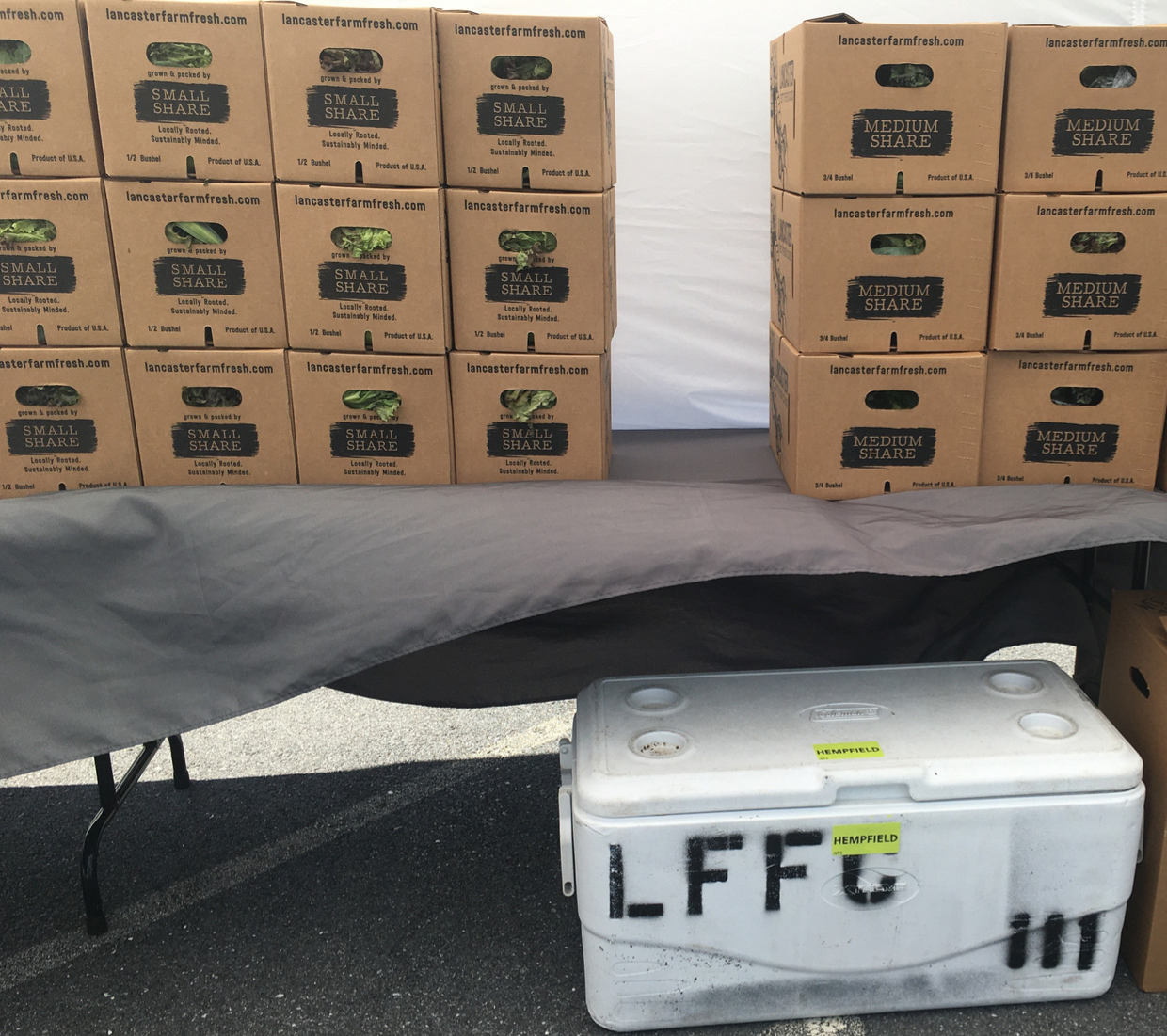 Example of CSA site. This site has a cooler. Not all sites have coolers.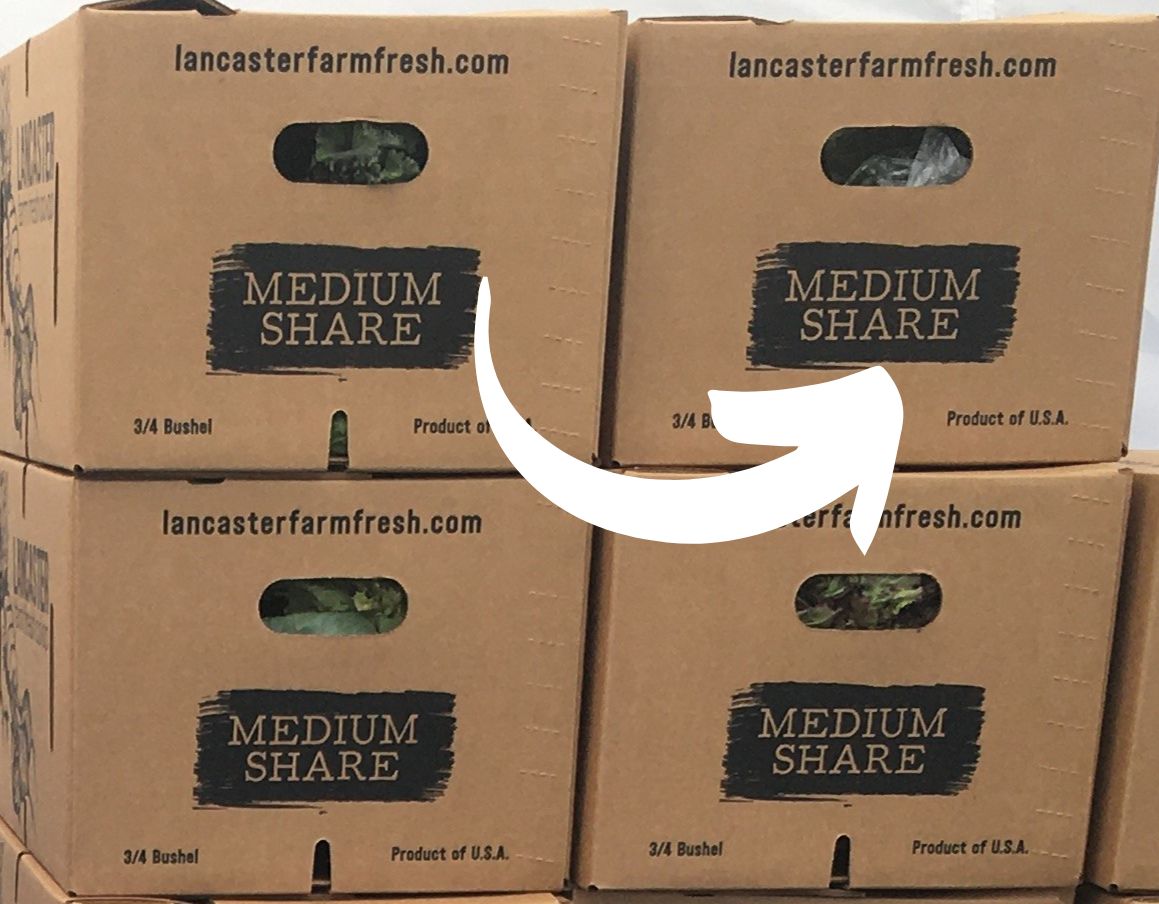 Sizes of veg shares clearly marked on boxes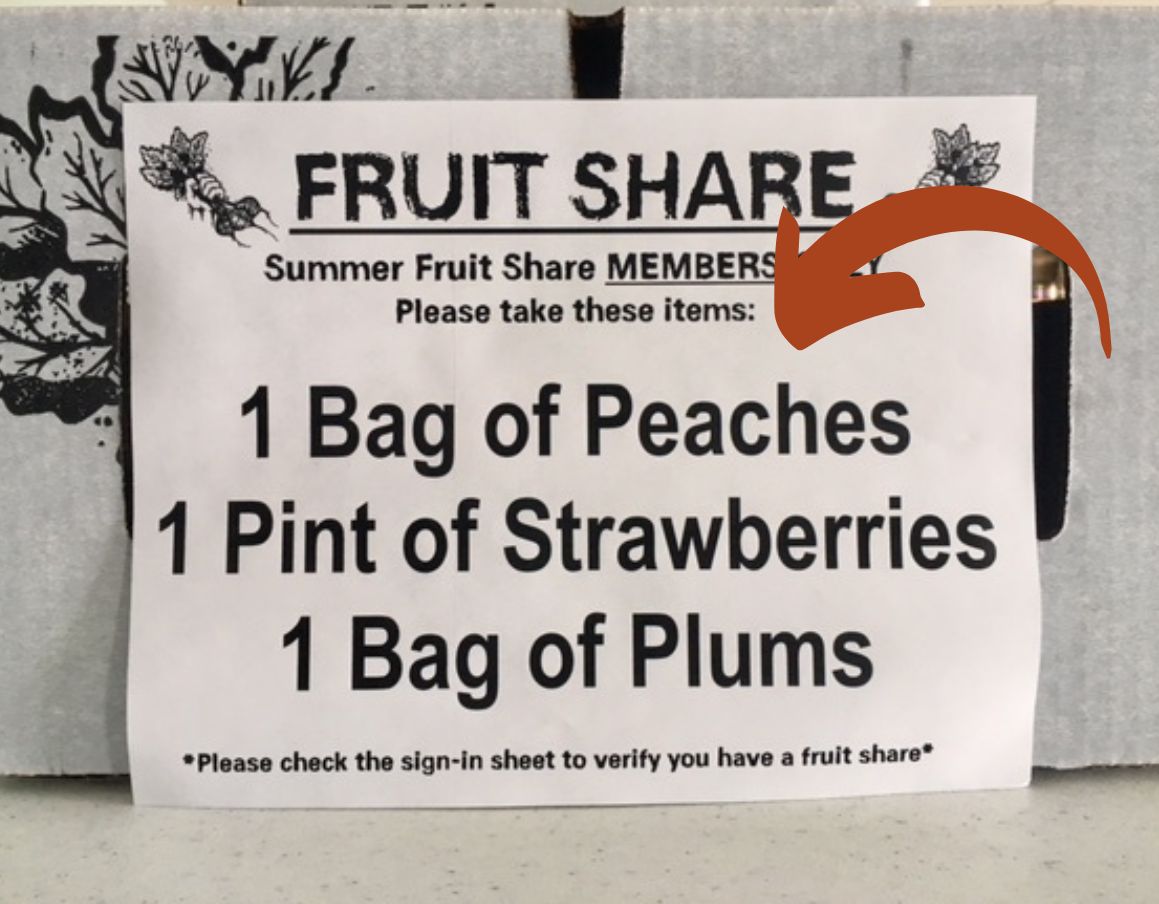 Fruit Shareholders: Boxes are marked with instructions. Please only take the quantity listed on the instrcutions – not the whole box.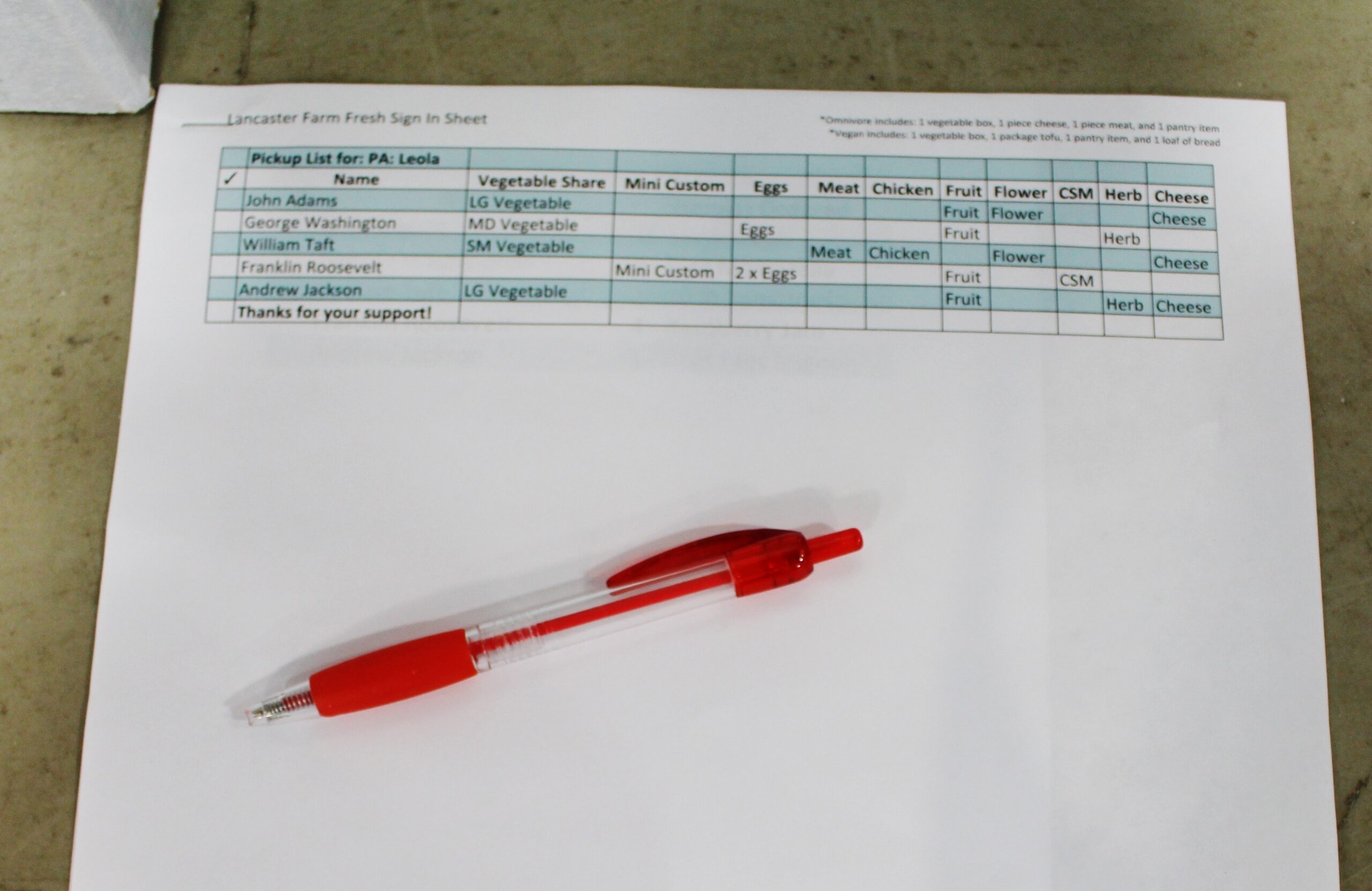 Sign-in sheet for ALL members: Sign-in sheet with your name and share(s). Please double-check it's accurate and then check-off your name.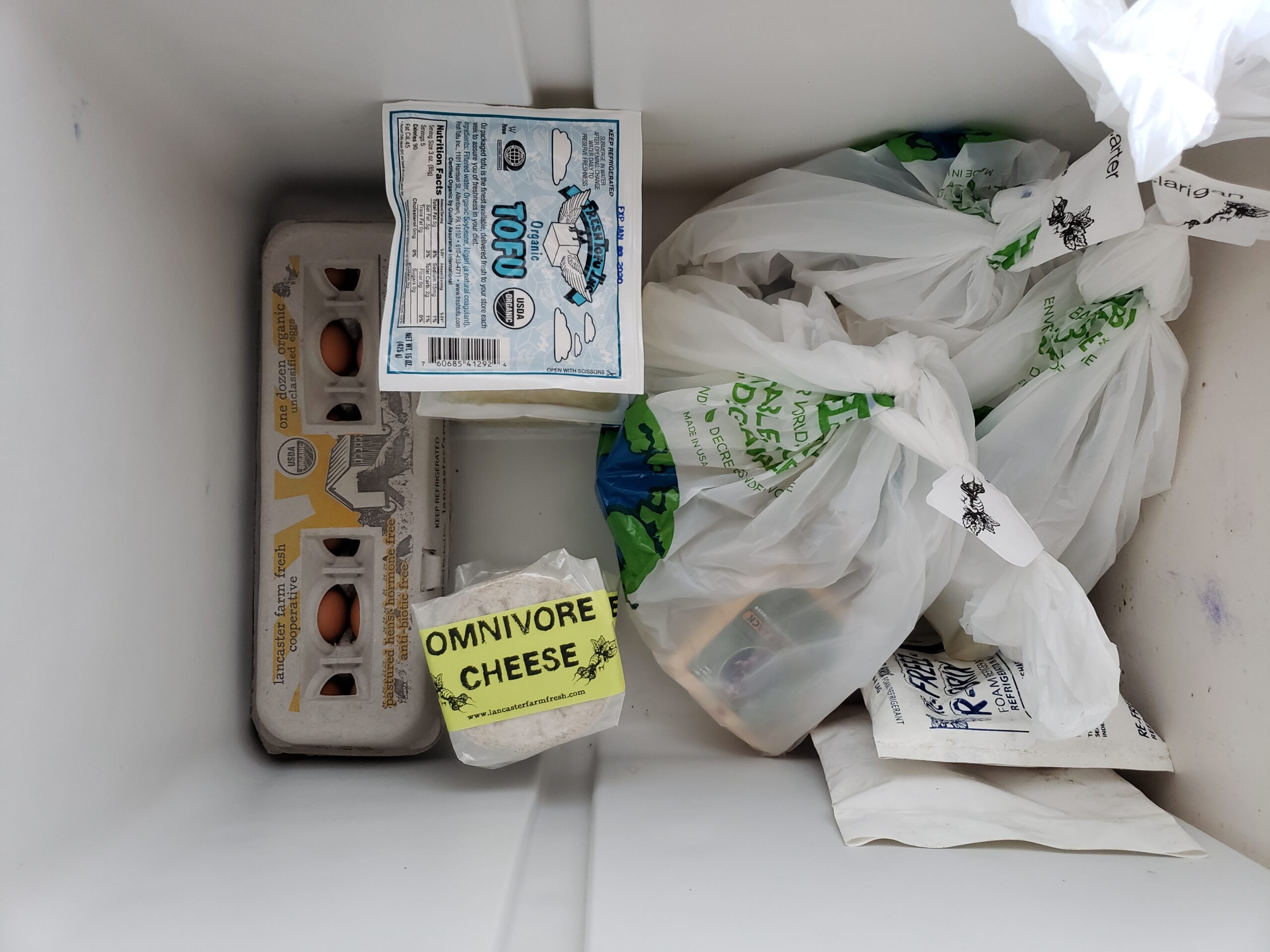 Example of the inside of a cooler. Coolers contain meats, eggs, yogurt, cheeses, etc.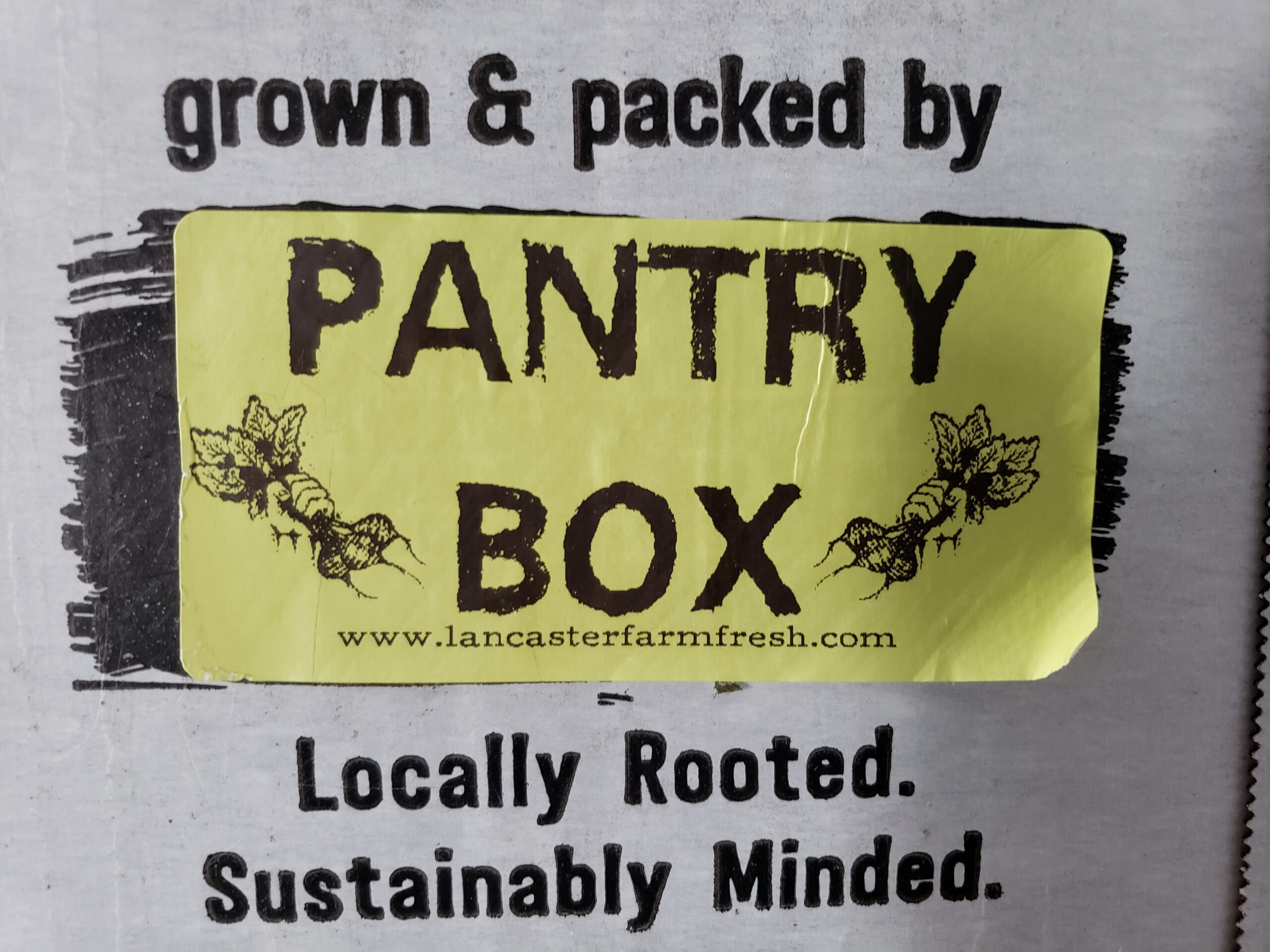 Speciality boxes are clearly marked. Pantry boxes are for members who ordered omnivore or vegan shares.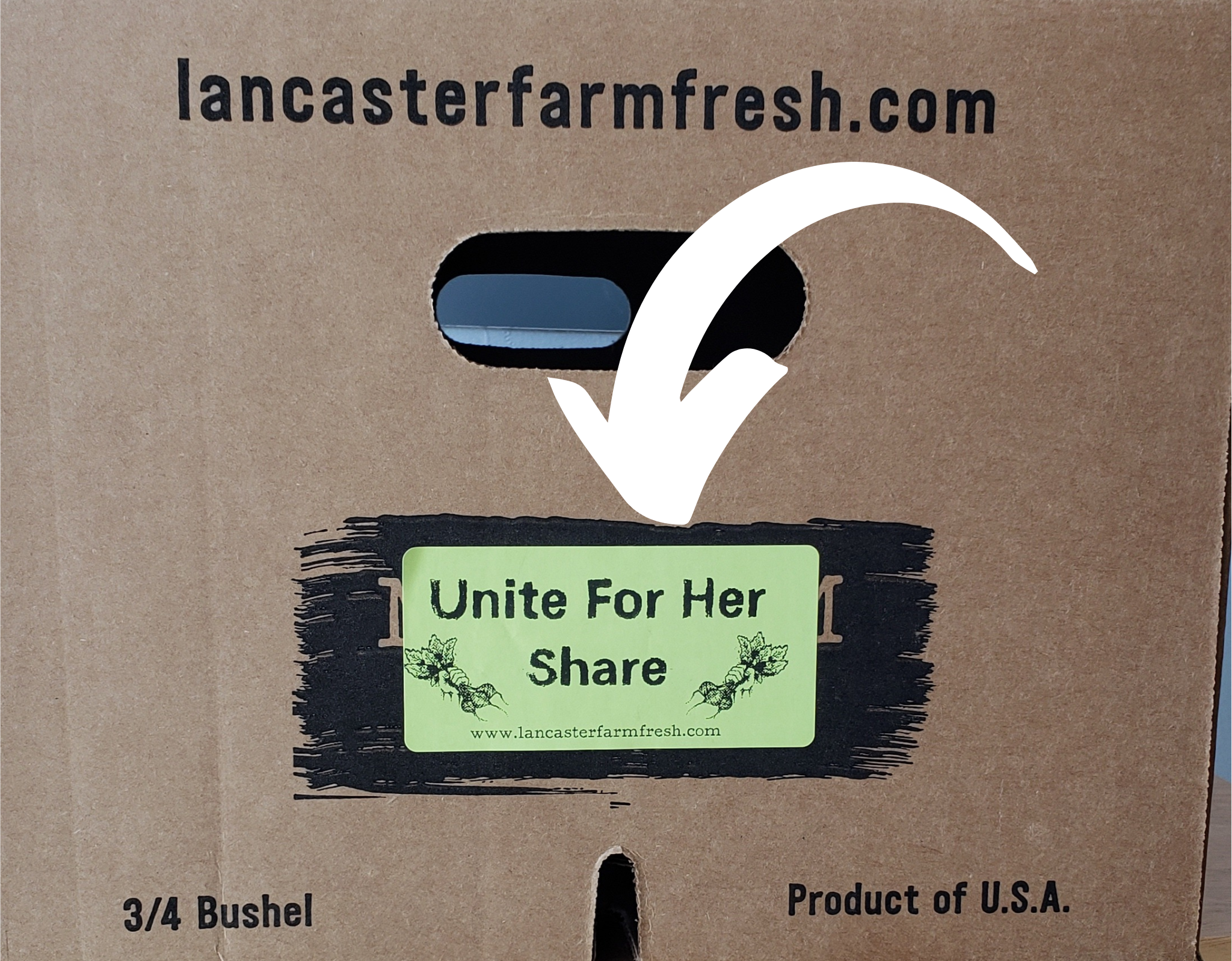 Unite for HER members: Boxes labeled with the Unite for HER sticker are for Unite for HER members only. Please do NOT take one of these boxes unless you are a Unite for HER member.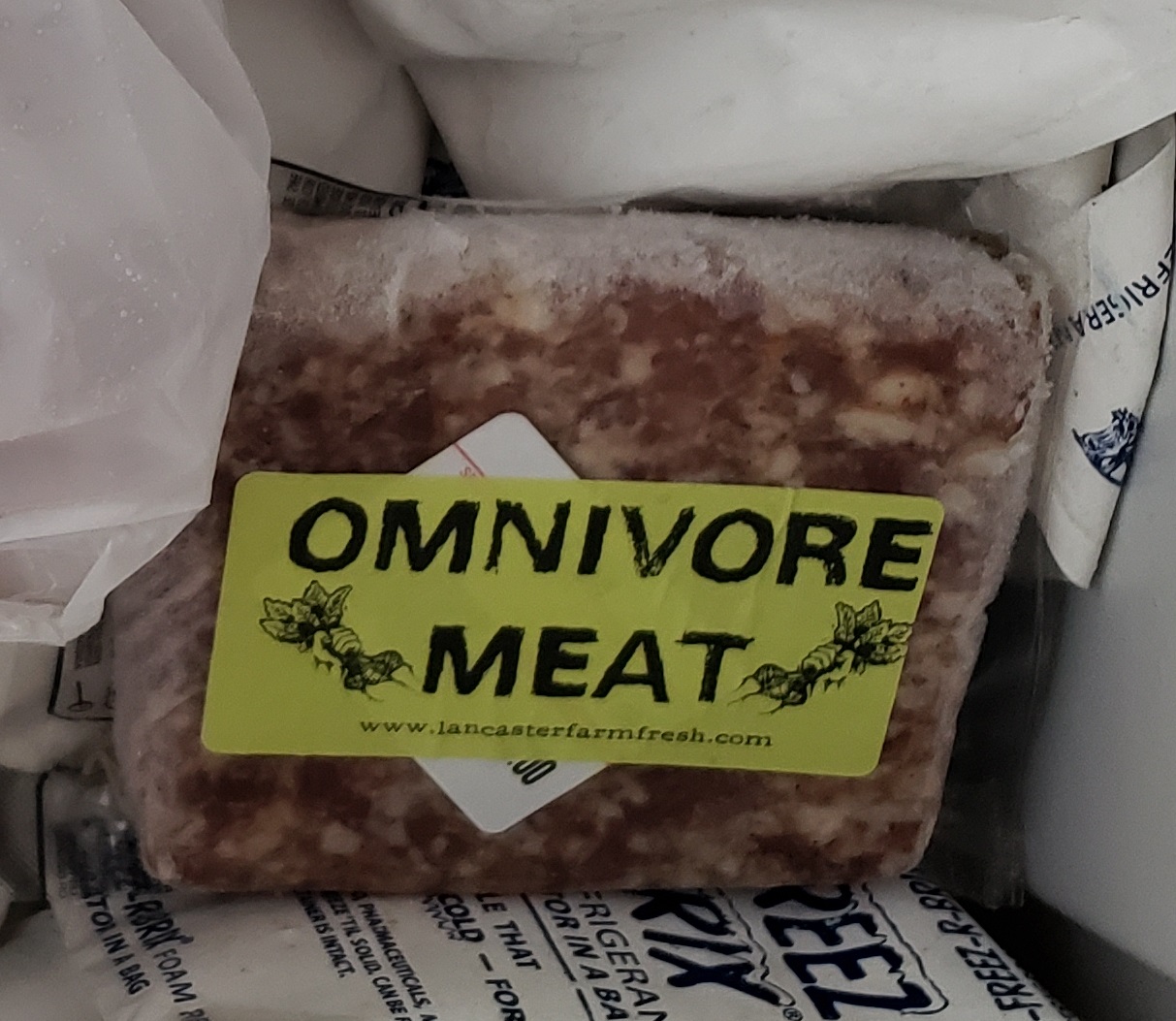 Omnivore Shareholders: Omnivore items are labeled. Please take one of each type (ie. cheese, meat, pantry item).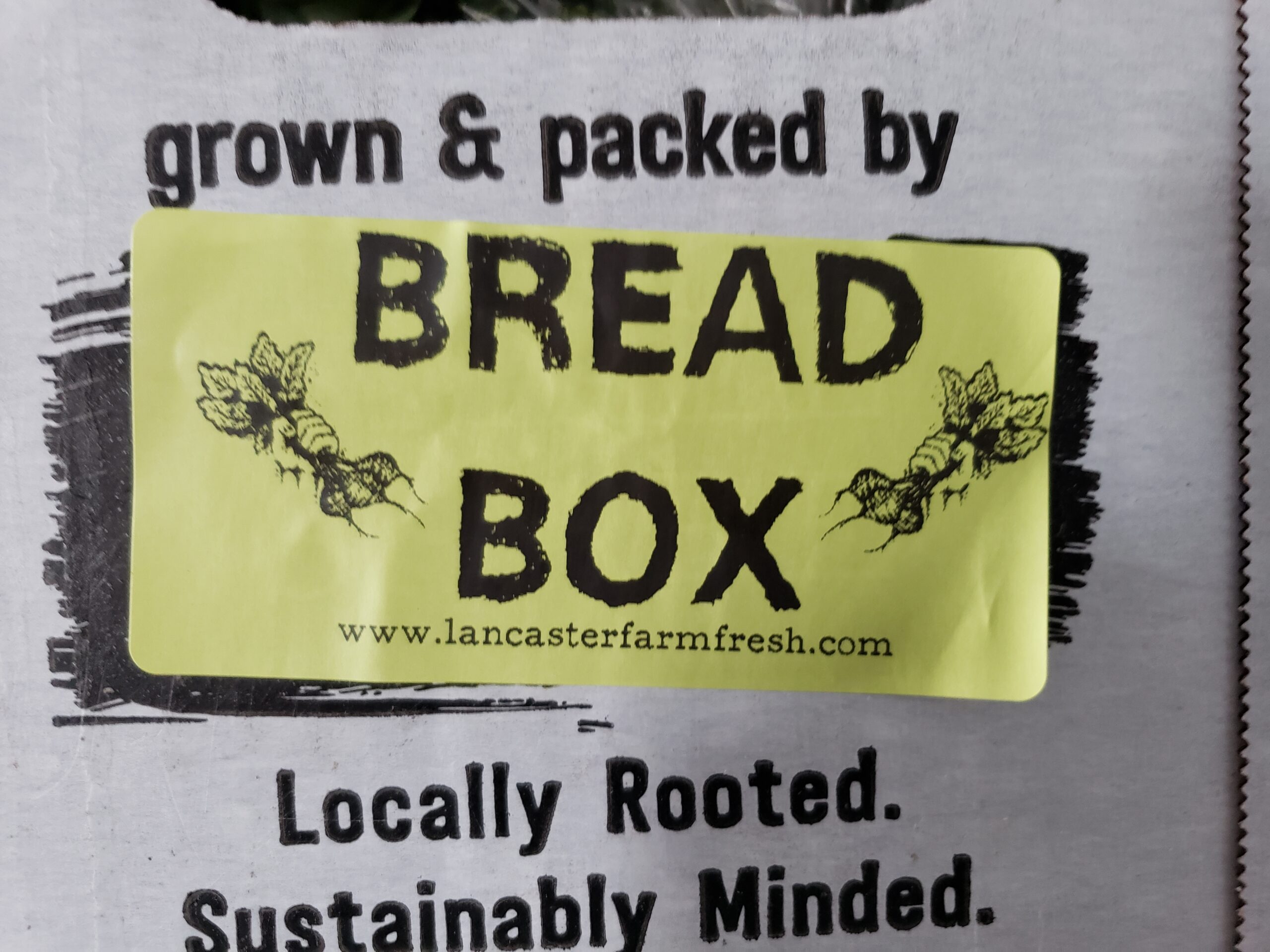 Bread shareholders: Bread is located in a labeled box. Do NOT take the whole box. Take one bread item from the box.