2022 Herbal Medicine Share
The Herbal Medicine share is brought to you by Lancaster Farmacy, a small certified organic herb and flower farm here in Lancaster, PA.
Sign-up now and you will receive 3 seasonal packages (June, September, and December).
June order deadline is 12:00pm, Wednesday, June 22nd
After June 22nd, prices will be prorated and customers will receive the September & December packages.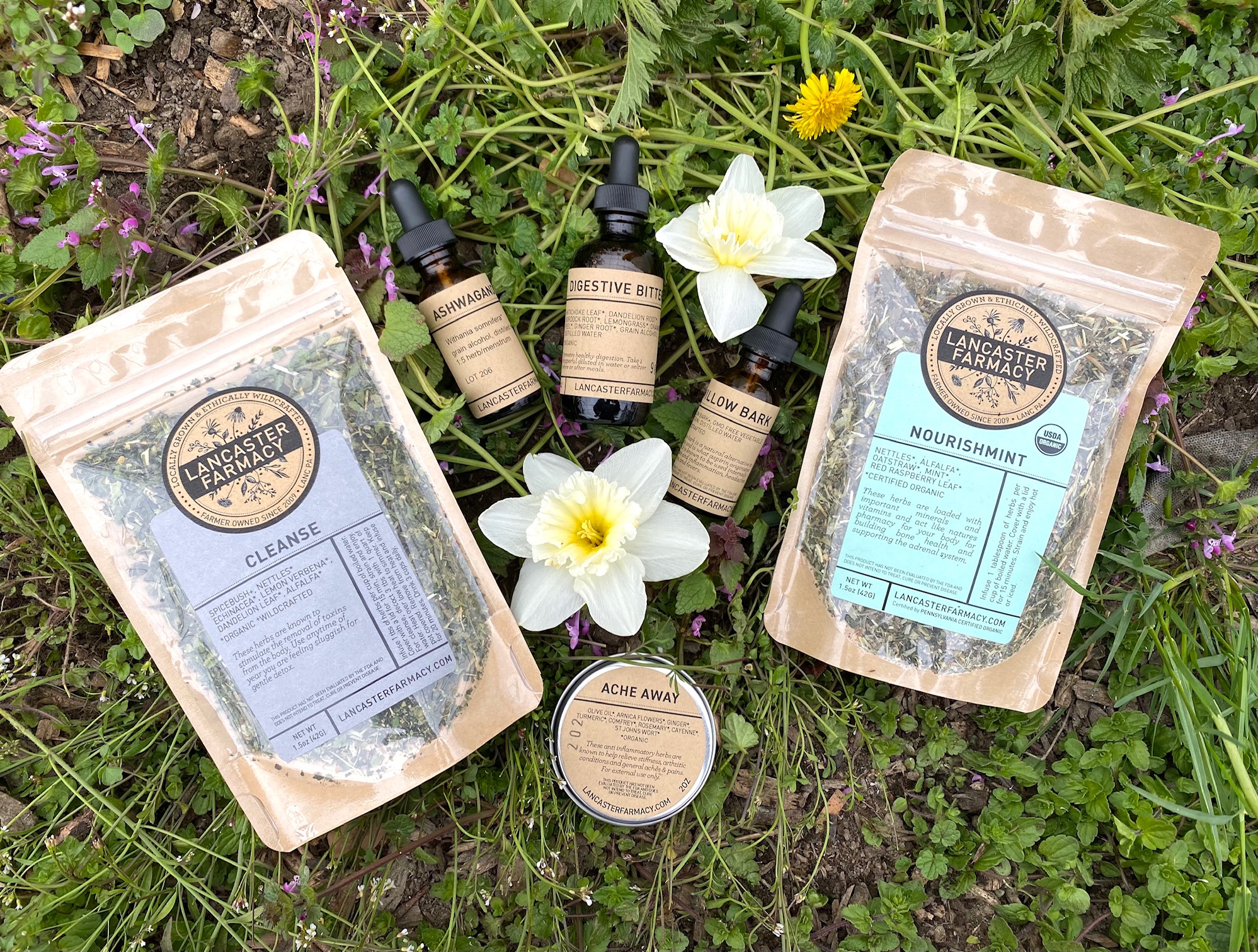 Take your health in your own hands, aid in your well–being and healing throughout seasons with an Herbal Medicine share! The items you receive will expand your medicine cabinet for common use but also prepare you in a preventative way for seasonal ailments. Included with each package is information on the products to familiarize you with the herbs and their application.
Your package includes a spectrum of 5-6 handcrafted products made in small batches, ensuring you get the freshest and highest quality products available. A sample of things you will receive includes: digestive bitters, detoxifying tonics, healing salves, hydrosols, mineral salt soaks, herbal sun screen, bug spray, herbal first aid, elixirs, soothing balms, oil infusions, immune boosting and emotional support tinctures, dental care, cold and cough syrups, and over 7 loose leaf teas made from our farm-grown herbs.
You may receive items like:
| | | |
| --- | --- | --- |
|  Summer (June) | Fall (September) |  Winter (December) |
| Lifting Lemon Tea | Cold Care Tea |  Chaga Chai Tea |
| Calendula Oil | Fire Cider |  Winter Bitters |
| Chamomile Hydrosol | Rose Geranium Hydrosol | Elderberry Syrup |
| Lemon Balm Glycerite | Healing Salve | Echinacea Glycerite |
| Tranquilitea | Destress Elixir | Cough Cordial |
| New Summer Formula | Elderberry Syrup | Chest Rub |